Outdoor Collection
The acres of meadow and forest surrounding the gallery are host to a growing and changing exhibit of outdoor sculptures. As time progresses, our grounds will develop into a sculpture park, complete with a sculpture woods walk. These original sculptures are all available for purchase with the exception of "Twin" which can be made as a custom edition for your space.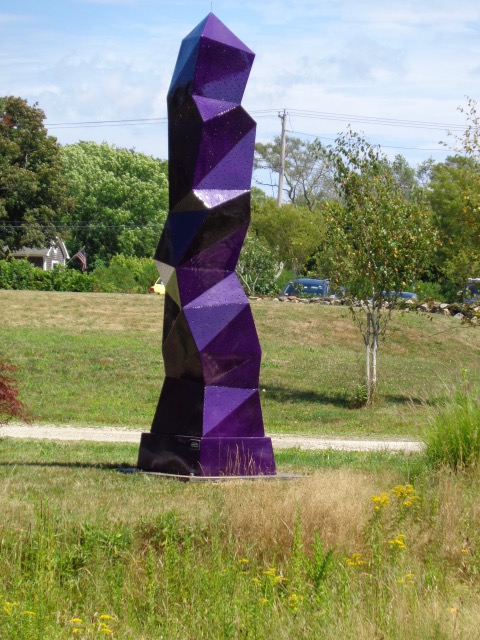 Mark Wholey
Mark Wholey studied drawing and design at Butera School of Art in Boston in 1965, before moving to California, where he earned a BFA in sculpture from the San Francisco Art Institute in 1990. In California he taught, worked as a graphic designer, and participated in several exhibitions. Studying in Italy in 1989, he worked in Padova, and in 1994 he moved to Umbria, where he restored an old stone farmhouse. He created paintings, constructed art out of marble and steel, and exhibited work in Florence, Padova, and Cortona. He has been a curator and juror of art, published written reviews, and served as a board member for various art associations. Wholey has shown extensively throughout the United States, completed large scale projects, and he has placed permanent sculptures abroad. One of Wholey's latest works, a fourteen foot tall perforated steel sculpture titled Hephaestus Rising can be seen through September 2016 on South Main Street in Providence, Rhode Island, selected as part of the I-195 Relocation project. He will also be exhibiting at Van Essen Gallery in Tiverton, RI. The show opens September 5th.
Isabel Mattia
Raised in the woodworking studios of her artist parents, Isabel Mattia has always had an interest in material explorations. She received her Bachelors Degree from Brown University in May 2011, graduating with a double concentration in Visual Art (with honors) and Africana Studies. Her work has been exhibited in the New Bedford Art Museum, The Perry and Marty Granoff Center for the Arts at Brown University, and the David Winton Bell Gallery. She is a recipient of the Marlene Malik Grant for Sculpture and the Roberta Joslin Award for Excellence in Art.
Mattia works in her space within Smokestack Studios in Fall River, Massachusetts. She teaches welding at the Steel Yard in Providence, RI, and is a teaching and artist assistant for Sculptor Paul Myoda. From 2011 to 2015, she was Dedee Shattuck Gallery's Lead Curator. She has also worked as an artist's assistant for sculptor and textile artist Charlotte Hamlin. She has led arts workshops for young artists at Curvin-McCabe school in Pawtucket Rhode Island and for incarcerated women in the Adult Correctional Institute in Cranston, Rhode Island.
Gail Fredell
I am a fourth generation native Californian, born and raised in the San Francisco Bay Area. I graduated from UC Berkeley with a degree in Architecture in 1974, and after four years of working as a general contractor, I returned to school and received my MFA in Woodworking and Furniture Design from Rochester Institute of Technology in 1980. Since then I have pursued a career of studio furniture work, education and arts administration. I have maintained workshops in the Bay Area, the mountains of Colorado and North Carolina, and now Fall River, MA. I have taught extensively in workshop programs across the country, and from 1993 to 2001 I served as the Furniture Program Director at Anderson Ranch Arts Center near Aspen, CO. In 2012 I was invited to teach in the Foundation Studies and Furniture Design Departments at RISD, and I have since then moved permanently to the area and continue to teach part-time at the College. I live in Westport Point, MA and work at the Smokestack Studios in Fall River, MA. My furniture is in the permanent collections of SF MOMA, the Oakland Museum, The Fuller Craft Museum, Stanford University Memorial Chapel and The AIDS Memorial Grove in Golden Gate Park. I am currently a Faculty member in the Furniture Design and Foundation Studies departments at Rhode Island School of Design, and continue to design and build commissioned and speculative furniture work at Smokestack Studios in Fall River, MA.
Stacey Latt-Savage
Associate Professor of Fine Arts (1998), BA 1990 Wells College; MFA 1996 Cornell University. Specializations: Sculpture and drawing.
Professor Savage exhibits her sculpture in a variety of venues including museums, university galleries, outdoor public settings and permanent commissions. Selected museums include the DeCordova Museum and Sculpture Park (Lincoln, MA); the Alternative Museum (New York, NY); the Fuller Museum (Brockton, MA); the Revolving Museum (Lowell, MA), the New Bedford Art Museum (NB, MA). University gallery settings include Brandeis University, Bridgewater State University, Stonehill College, UMass Lowell and Bristol Community College. Recent international exhibitions have included a drawing exhibition in Beijing, China and a travelling sculpture exhibition through Southeast Asia with the University of Hawaii Art Gallery.
Professor Savage recently founded and curated the "River Project: Sculpture at the Slocum's River Reserve" (Dartmouth, MA) featuring site-specific outdoor sculpture of national and regional artists. She has also exhibited her large-scale public sculpture at the Skokie Sculpture Park (Skokie, IL), Forest Hills Cemetery (Boston, MA), Tarrant College (Fort Worth, TX), Chesterwood Museum (Stockbridge, MA), The Whaling Museum (New Bedford, MA). Professor Savage has been awarded residencies at the Kohler Artist Residency, IL; Yew Tree Farm, England; Franconia Sculpture Park, MN; Watershed Center for Ceramic Arts, ME. Selected permanent public commissions include a recent collaborative sculpture for the Dartmouth Community Park (Dartmouth, MA) and the Holocaust Memorial in (New Bedford, MA). Professor Savage has been featured on an arts segment of CBS Sunday Morning and reviewed in a variety of publications.
Stacy's studio work is inspired by the human figure and the inherent complexity of human emotion.
Whitmore Boogaerts
WB Sculpture Studio has created mobiles, indoor and outdoor sculptures, furniture, wall pieces, and countless commissions over the past twenty years. These fluid and sophisticated pieces of art can be found throughout the United States and around the world. With a background in civil engineering, Whitmore Boogaerts has enjoyed working with architects, business owners, and art collectors to design pieces which not only suit the environment but also add a new vision. With a 7500 square foot studio located in Providence, RI, Boogaerts and his staff combine balance and design with attention to detail through strong craftsmanship. The goal of each piece is to let nature itself flow through the work. The gallery space usually has a large selection of new work.
Keith Francis
In 2013 Francis began work on Reflections of Being, arguably his largest outdoor sculpture, for the University of Mississippi, Art Museum in Oxford, MS. His process included the labor intensive hand forming of stainless steel, welding, and fabrication.
Francis has exhibited throughout the world, at venues including the University of Mississippi, Oxford, MS; Delaware State University, Dover, DE; Butler University, Indianapolis, IN; New Art Center, Newton, MA; New Bedford Art Museum, New Bedford, MA; New England School of Art & Design, Boston, MA; The School of the Museum of Fine Arts, Boston, MA; Hairpin Art Center, Chicago, IL; Carmel Film and Art Festival, Carmel, CA; and Giornata Del Contemporaneo Di Amaci, Milan, Italy. Francis was commissioned by the Democratic National Committee to design the 2004 Boston Democratic National Convention identity, and he designed a commemorative poster for the opening of the Leonard P. Zakim Bunker Hill Bridge in the city of Boston. Keith's artworks have been showcased and featured in The Boston Globe, Boston Herald, WGBH, Art Works, Big Red & Shiny, Printer's Devil Review, Artscope, Graphis and Saatchi Art, London, U.K. He has made appearances on the BBC, C-Span, WGBH Greater Boston and CBS television. Keith is a guest lecturer at UMass-Dartmouth and New England School of Art & Design, and is a graduate portfolio reviewer at Massachusetts College of Art & Design, sponsored by the American Institute of Graphic Arts (AIGA). Francis has been honored with prestigious awards from many professional groups, including the World Trade Center Site Memorial Competition, Who's Who in the World, Who's Who in America, Graphis Poster Annual, and Design 21. Awards include several art grants and private and corporate art commissions. In 2011, Keith was inducted into his high school's Hall of Fame for Career Achievement, at Greater New Bedford Regional Vocational Technical High School.
Born in Fairhaven, Massachusetts, Francis graduated and received a Bachelor of Arts from the University of Massachusetts-Dartmouth 1989 and, and he attended classes at the Maine Media Workshops in Rockport, ME, and The School of the Museum of Fine Arts in Boston, MA.
Nancy Winship Miliken
Nancy Winship Milliken is a sculptor creating site-specific work in urban and rural landscapes. Her archetypal structures pair ephemeral, organic materials such as wool, wax, and honey with industrial components such as steel. Milliken's environmentally performative sculptures reveal the actions of wind, rain, and sun as they transform her shapes and materials, adding an element of time. Sometimes she invites animal and human interaction.
Milliken's use of natural and industrial materials stems from her interest in rural art, agriculture, and sustainable living. These were brought together through the lens of a Masters in Fine Arts degree in 2008 from Massachusetts College of Art and Design, with residencies at the Fine Arts Work Center in Provincetown, Massachusetts.
Along with installing her work in New England and New Zealand farmland, Milliken has shown in solo and select group shows, including Boston Sculptors Gallery, Artstrand Gallery, the Christian Science Plaza in Boston, Qorikancha Museum, Peru, Provincetown Art Association Museum, University Museum of Contemporary Art, and Brattleboro Museum. She incorporates her sculptures into set design for Double Edge Theatre in Ashfield, Massachusetts.
She has given guest lectures, studio visits, and has been an Artist-In-Residence at several schools, universities and galleries including Burlington City Arts, University of Massachusetts, University of Vermont, Marlboro College, Amherst College, and Hampshire College.
For her newest project, Contemporary Pastoralism, Milliken has traded studio for farm to work collaboratively with farmers and their animals to create site-responsive installations and performance documentation.
Milliken is represented by Boston Sculptors Gallery.
Dedeeshattuckgallery@gmail.com | 508. 636. 4177 | 1 Partners' Lane, Westport, MA 02790 | W - Sat, 10 - 5, Sun 12 - 5